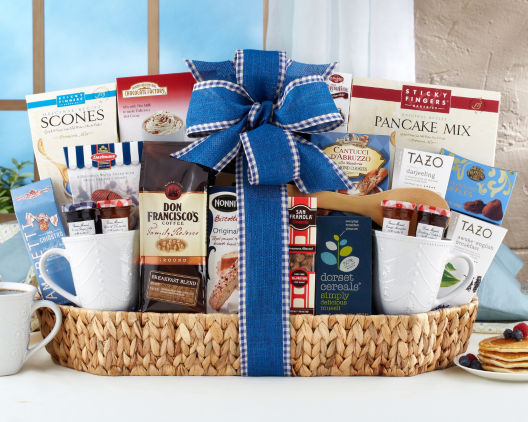 Wouldn't you like to receive this gift basket? I would. I think I see a Ghiradelli in there and that's saying someone really cares enough about me to remember that I'm in love with that particular chocolate.
It's that time of year for Graduations, Birthdays, Holidays, Cemetery Decorations, End of school, Father's Day and beginning of summer, all rolled into one month, May.
The thought comes to mind, "What do I get for my cousin who's graduating so she knows I appreciate her dedication?" "What do I get different for dear ol' Dad so this year he feels special and important ?", or "What can I buy this year so they feel I really put some thought into their gift?"
I have the answer. From baby gifts to wedding or simply get well, the gift basket is the best way to go. You just can't go wrong and your special someone will feel really important when they see you specialized something just for them.
So, the first step
is to figure out what that person is in to. Don't just guess, have someone close to them tell you what they like, their coffee preference, what books they read, where they go to relax, what music they enjoy. Or if you're really close to the person, just pay attention to the tiny details and follow the trail to what their heart really desires and what is sentimental to them. Men, bless your hearts, please don't ask your special lady what she wants for Mother's Day or birthday or any occasion, just figure it out, without her knowing and plan ahead! Don't wait until the last minute, please. Nothing says I love you like a basket thrown together with things from the Dollar Tree that mean nothing to her, unless of course she's passionate about something specific from there, ok? get the idea? Be CREATIVE and seek answers on your own. It will mean more than anything to her. A little more time consuming idea, would be to find something from her childhood and restore it or gather family pictures and put them in a special frame and put together a memory basket, along with things that mean something to her.
That's a good start and then you can determine what's going to really light up their eyes when they see your giant gift basket on their door step or restaurant table or office or special place. You'll need to select a nice basket or metal container, or if it's for newly weds, you might consider a nice kitchen colander with gourmet dips and meal mixes, or variety of pasta with kitchen tongs and a towel or monogrammed apron. The options are endless but should be personal and tailored to fit the person.
I have put together some great ideas for you or you can order from this great company, Wine and Country Gift Baskets or you can use it as a launch to put together your own. I have used this company before and they did a great job. I have also received a couple gifts from someone including a soup basket and a Christmas chocolate tower. They were really nice and I thought they were great gifts and upon opening them , I thought, wow, they shouldn't have spent so much. But, as I began taking apart the basket, I found that there wasn't as much product, but just a nicely decorated set of Styrofoam and boxes to build up the basket. I thought, how clever, and I still felt special from the gourmet items and the thoughtfulness of the person who sent it, but I realized it was a great way to make a BIG impression.
I have not been endorsed in any way to feature this company, I just think they have valuable products and their baskets look so professional.
We had a family member graduation to attend for kindergarten home school and I forgot all about it. I had planned to take my husband out to dinner for his birthday and then he told me about the event. So, what do I do? No gift? What good aunt shows up without a gift? I want to be a good Aunt, so off I go searching pinterest.
At the end of the "smarty pants" graduation bag, check out a variety of ways to make a large gift basket for some one this season. You can make it look expensive without buying a large amount.
I found these free printables at http://www.nothingbutcountry.com/wp-content/uploads/2011/05/IMG_0968.jpg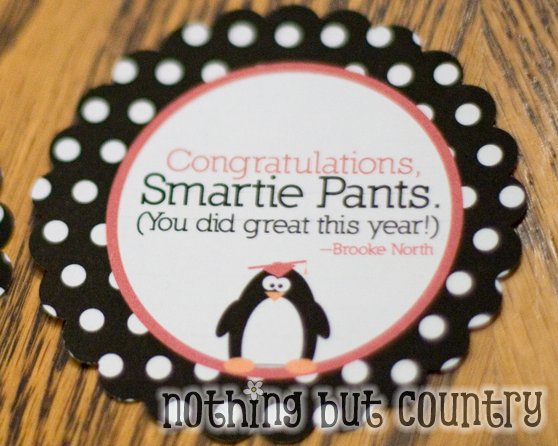 I loaded up the kids and myself, threw a hat on and to the Dollar General we went. You know you can always go to the Dollar G in pajamas and still fit right in! Plus, it was closer than Walmart to us and in our budget, so off we go.
I liked this 'Smarty Pants' theme, so I went with my own design.
You will need the following:
2 clothespins (already in my craft stock)
card stock (red) or whatever color you want
yellow yarn, blue yarn
Ziploc bag (the goody bags would have looked better, but this did fine)
free printable
acrylic paint, fine tip paint brush, wide tip paint brush
hole punch
hot glue gun
And most importantly, a variety of Smartie's candy. I did not know they came in a giant roll, a taffy and a bubble gum variety. Who knows what else they come in, Was just thrilled they had more than the tiny little rolls. This made for a much better presentation.
"Bigger Is Better" when making any kind of gift basket collection. This little bag would have looked even better in a tall cellophane bag filled with crinkle paper in the bottom, but I ran out of time/resources.
Last little touch: tangerine fingernail polish, woo hoo, what girl doesn't like that?
For this particular Smarty Pants Bag, I painted the clothespins black, then added white polka dots on one side of each. I then accented with red stripes and added a monogram on each pin. I hot glued the grad cap cut out on top of each pin. I placed a hole punch near the edge and pulled the yellow yarn through making a slip knot. Then I hole punched the printouts and laced the string through.
For the opposite side, I cut out the shape of cute pants and used foam sticky letters to add her name and year. I also punched 2 holes and laced some yarn through. I then placed the goodies in the bag, rolled the bag down and pinned each side of the yarn ends onto the bag.
Voila! All done and I had no minutes to spare getting out the door!
Tip: Have this done ahead of time! it was super easy and fast, too!
Gift Basket tips:
Tip: stuff the bottom of baskets with small boxes or thick paper before filling, so that the basket looks fuller.
Tip: Tape your basket goodies on top of each other and to the sides, so that the end result is a really tall, luscious basket. Use cellophane wrap, pre secure the top with a twisty tie before you tie it with a huge ribbon, this will make it easier to style the ribbon and have a hand free as well.
You can buy the cellophane wrap at Hobby Lobby/craft store or at a florist store. Make sure to buy the longest/widest wrap available.
You can make a basket look very expensive by trying these tips.
Fruit baskets are nice and look fuller when you add large nuts in the bottom and pick a variety of fruit to appeal to more people on the receiving end.
You'll need to lay the cellophane wrap on a table and center your basket in the middle. DO NOT CUT until you have pulled the wrap up to the top of your goodies and leave 5-6 inches in height above the top. If you don't, it won't reach and will look short and stubby. You want a big full top above the bow.
I learned these tricks from working for a Florist several years ago and learned a few things. I got rave reviews from some baskets I designed for a Teacher's Luncheon a few years ago. I was able to purchase several themed items from "la Gourmet Chef" outlet in Oklahoma and everyone thought they were very expensive looking and elaborate. Each had a different theme; a pasta basket, a gourmet coffee basket, a popcorn basket, a kitchen gadgets basket, a chili/soup basket, and a grill master's basket. I topped them with sparkle tulle ribbon and made them very full.
Here is an example of what 'not' to do. #1, the cellophane is cut short and the product is down inside the basket and not stacked to display the items. I can't even see what is in there and it doesn't look attractive.
You want to pull the ends of the cellophane up to the top of the products and secure them by tightly adding a twisty tie, then after secured, tie on your big ribbon, leaving trails of the ribbon flowing down the basket. You might even add a small decorative element like a wooden spoon or a small chalkboard name tag or a small picture frame. The possibilities are endless.
Gift Basket Ideas & link: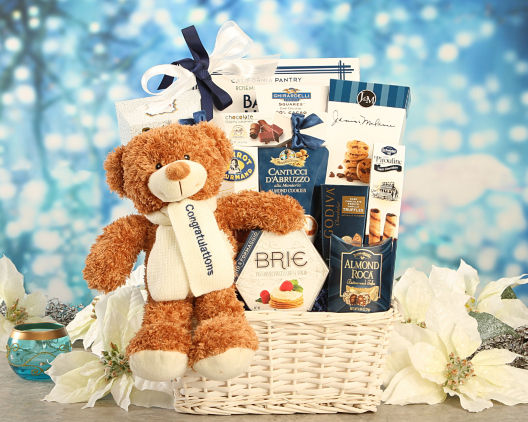 Congratulations BearGift Basket - Item No: 117C
Graduation Basket:
Gift Cards, Devotionals, Gourmet Dried Fruit/Nut mixes, Snack Foods, Movie Tickets, Popcorn, Gourmet Chocolate, itunes download gift card, amazon gift card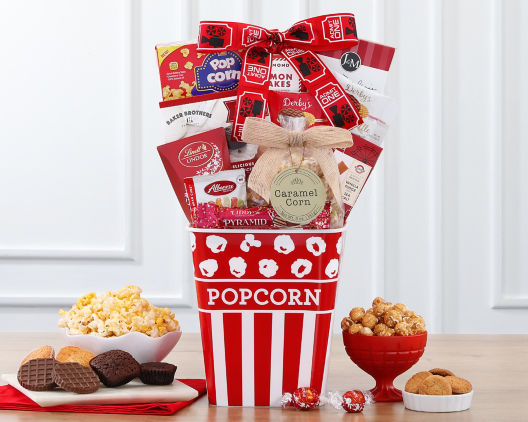 http://images.winecountrygiftbaskets.com/is/image/Winecountrygiftbaskets/562?$large522$&qlt=80,1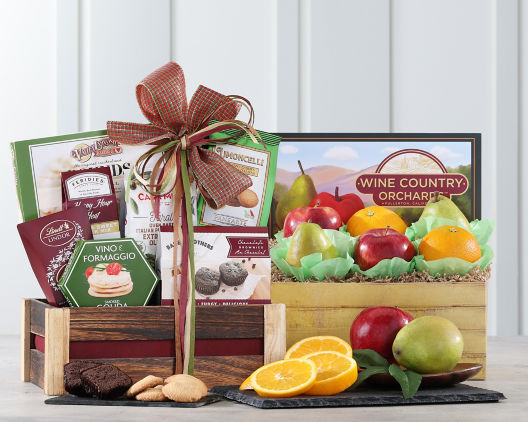 http://images.winecountrygiftbaskets.com/is/image/Winecountrygiftbaskets/508?$large522$&qlt=80,1
Fruit/Nut/Sparkling Juice Basket: Add a colander or inexpensive fruit bowl on the bottom and turn it upside down, add your fruits on top and nuts on the bottom, with the juice in the middle. Wrap the cellophane around the basket and hold while you fill with fruit to hold it together.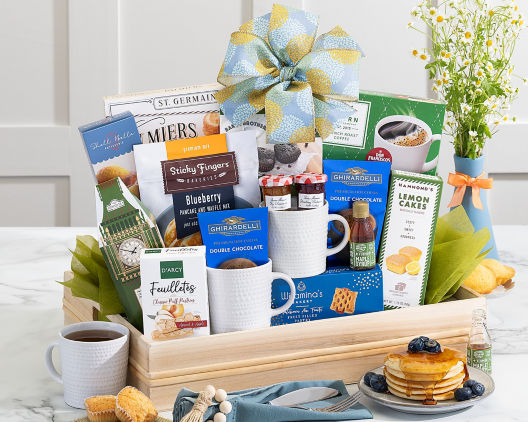 http://images.winecountrygiftbaskets.com/is/image/Winecountrygiftbaskets/551?$large522$&qlt=80,1
Breakfast Basket supplies ideas: small biscuit mix,pancake mix, syrup, pancake spatula, pancake dispenser, chocolate chips bag, fruit, small coffee samples, small jelly samples.
http://images.winecountrygiftbaskets.com/is/image/Winecountrygiftbaskets/506?$large522$&qlt=80,1
Get Well Basket:variety of herbal tea, lemons, oranges, honey, a short story book, box of lotion tissues, the newspaper, slippers, Epsom salt + essential oil (with tea tree)homemade bath soak in a jar, lavender lotion, small eye cooling gel mask (the kind you put in freezer)
momtobedby8.com for military care package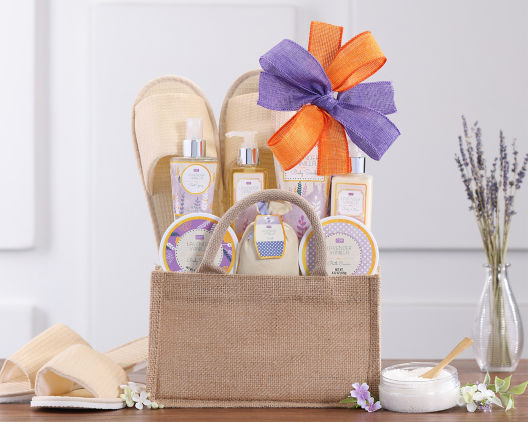 http://images.winecountrygiftbaskets.com/is/image/Winecountrygiftbaskets/523?$large522$&qlt=80,1
Spa Basket: Epsom Salt diy mixes using essential oils, massage oil like coconut oil or speciality pre made oils, hair wrap, robe, comfy slippers, luxury towel, separately add cucumbers + Greek yogurt+lemons+honey for a nice facial diy and put in a little mixing bowl and spoon, brown sugar in a jar +olive oil with a spatula, a bubble bath, a sparkling bottle of juice or flavored water, a spa music cd or itunes gift card, chocolate covered strawberries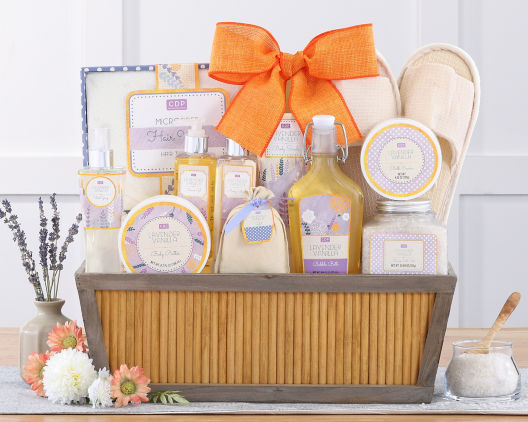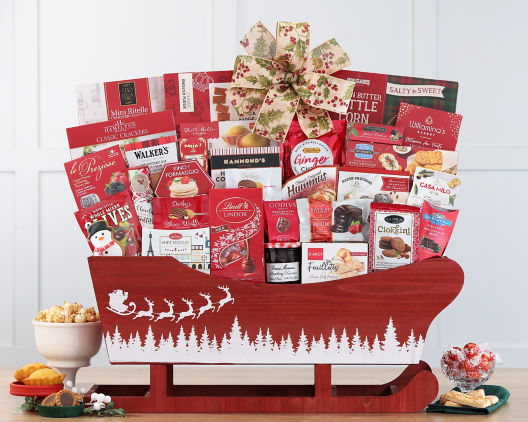 http://images.winecountrygiftbaskets.com/is/image/Winecountrygiftbaskets/010?$large522$&qlt=80,1
Coffee Lovers basket & Father's Day: small coffee variety samples: espresso, cappuccino, coffee pods-depending on what machine they have, just find out, Mary Moo's creamers, gourmet chocolate mix, gourmet syrups (hazelnut and french vanilla are popular), oranges, nutella with gourmet toast, Biscotti (love these), strawberries, sausages.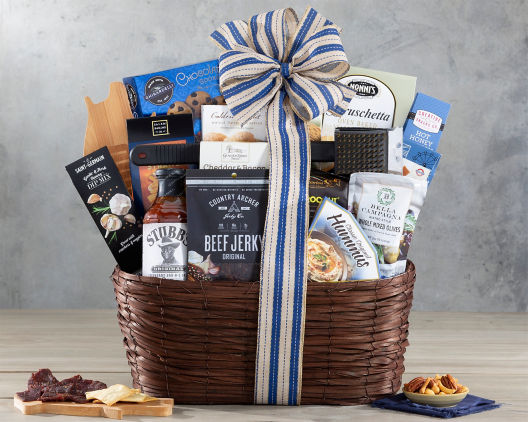 http://images.winecountrygiftbaskets.com/is/image/Winecountrygiftbaskets/993?$large522$&qlt=80,1
There are many ways you can put together a nice gift on a budget, in fact a lot of small items can be found at the Dollar Tree that will look great with a pretty ribbon and decorative fillers inside the basket. You don't have to spend a fortune to make someone feel special but you may have to do some thinking and you'll end up getting to know the person a little be more and feel closer to them in the end. What a great feeling, wouldn't you say?
Please feel free to write your thoughts here, I'd love to read them!